The Closing of Paradise Garage
story and all photographs copyright Tina Paul 1999
all rights reserved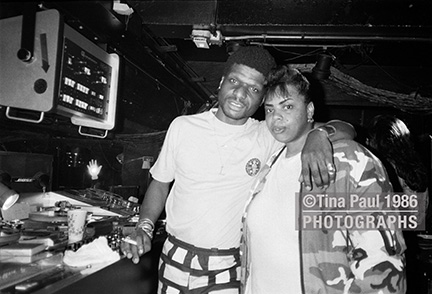 Larry Levan and Jennifer Mullins. I must start with this photo because Jennifer is the one who introduced me to Larry and also helped me get my Garage Membership Card. The first time I photographed Larry was May 17, 1986; Jennifer wanted me to photograph Larry so she could give the photo to him as a birthday gift. She taught me the importance of the DJs and introduced me to everyone who was important in the Clubs and encouraged me to photograph them. Jennifer moved to California before the closing of the Garage, this page is for her.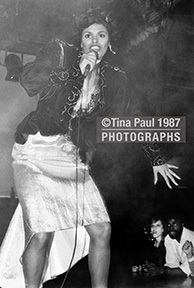 The only time I was at the Garage as a photographer was on March 13, 1987 when Jennifer asked me to photograph her as a backup dancer for SoFonda C. I was leaving for Miami Beach the next day so I only photographed the performance.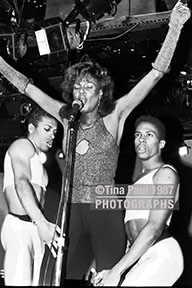 Candy J performed too, she was wild!
All the other times that I was at the Garage, I was there to party so the photographs I took were mostly snapshots of my friends. I always carried my XA camera and that is what I used. It wasn't until I was at the closing party that I realized how important it was to document this place but by then, it was too late.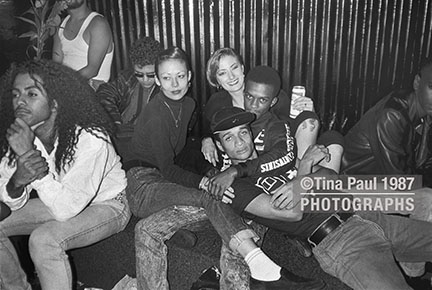 For months, everyone knew the Garage would be closing and as the day arrived we tried to prepare for it. My preparation was making sure I had enough cigarettes; bringing only one extra roll of film. The days that followed the closing were mornful but also brought a revelation of just how special and important it all was. Before the club could close we would have to get in there, which proved impossible on Friday, September 25. I was with Judi, John and Myra and when we got to the club, we couldn't get in because there was trouble outside. We rode around in cabs all night long, going to coffee shops and back to the club. By daybreak, Judi managed to get in, John and Myra cried; we gave up and spent the day preparing for Saturday night, which would be grand as ever.
Garage Kids - some of my friends at the Garage closing: Darryl, Richie Mercado, Leslie Macayla, Judi DeMuro, Douglas Coleman and John Howard.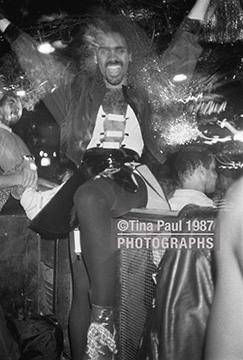 After spending the whole day thinking about the closing party, at midnight on Saturday September 26, 1987, I taped the dance party radio show which was dedicated to Larry Levan and the Paradise Garage. I was on the phone with Gilbert Libran my friend and hairdresser who convinced me to wear a dress that evening. I met up with Judi and Richie Pena and would walk up the ramp leading to the Crystal Room for the last time.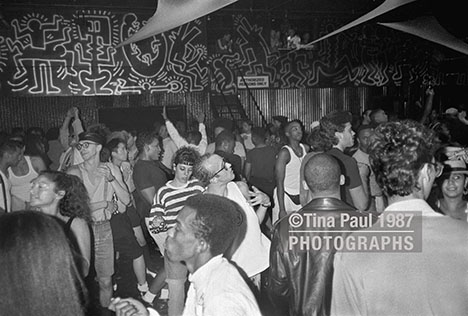 It was a sad and joyous occasion no one could have predicted or imagined; filled with so much meaning for so many people. Keith Haring painted the entire punch bowl room which became the second dancefloor because the main dancefloor was so crowded.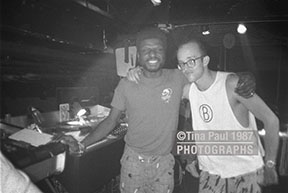 Larry Levan and Keith Haring in the DJ booth of Paradise Garage. Grace Jones was also there and Liz Torres and Masters C & J performed on stage.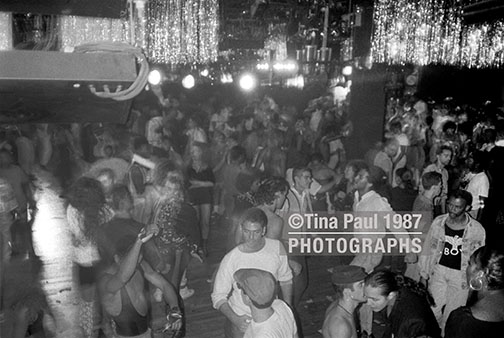 Last Dance on the Main Dancefloor. I left the club at 7pm Sunday night. I didn't want to leave till the end but I was out of film. Larry's mother went around greeting people saying "The Garage is dead, now we have nowhere to go". The Garage is gone but will always be remembered. It was the inspiration to today's Dance Music, DJ's, Dance Clubs and this Nightclub Photographer.

When I first started going there, Larry was playing "I Can't Wait" by NuShooz. Six months later that song was a hit on the radio. Other songs I fondly remember first hearing at the Garage are "Jump Back" by Dhar Braxton, "Jump" and "Love Heartache" by Man Friday, "Mind Games" by Liz Torres and the Garage anthem, "Love is the Message" by MFSB. There were so many other great Classic songs associated with the Garage. I felt ahead of what was hot in music by going to Garage because you heard it there first and Larry helped make those records big hits. I've never heard another DJ mix records like Larry, he was amazing. I remember being in Garage on different occasions hearing him play "Cosmic Shiva" by Nina Hagen, "Lucky in Love" by the Rolling Stones and "Once in a Lifetime" by Talking Heads. It was genius the way Larry mixed rock & roll with Dance Music. He understood the music so well, he used it as language. For me the Garage was where House Music flourished, it was a place you could go to dance, hang out, watch a movie or sit on the roof deck and they had snacks too; fresh fruit and juices. While many people did drugs there to enhance the experience, the Club itself was a natural experience with no liquor and an atmosphere like no other nightclub. It was a community I was fortunate to have been part of and I will always cherish my memories and the bonds that were formed there.

Thank you to everyone who was there and made it all happen; the Memories, the Music and the Magic of Paradise Garage.

Tina Paul








All Photographs copyright Tina Paul 1999
All Rights Reserved






tinapaul@fifibear.com



Copyright Notice: All Material, photographs, drawings, words and video that appear in Fifi Studios website
are the property of Tina Paul and Arhlene Z. Ayalin. All photographs, drawings, words and video are protected
under United States and International copyright laws throughout the Universe. No part of this website may be
privately stored, reproduced, broadcast, displayed in public, or used for any purpose in any form without
permission of Fifi Studios c Tina Paul 2001 and c Arhlene Z. Ayalin 2001 All Rights Reserved

---

tinapaul@fifibear.com