The Genius of Larry Levan
story and all photographs İTina Paul 1999
all rights reserved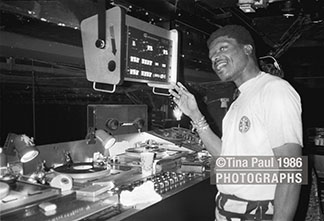 Larry Levan in the DJ Booth at Paradise Garage, May 17, 1986. This photo was taken the first time I met Larry. I was shy at the time so I never really got to know Larry too well. I had been to the Garage a few times already and was becoming familiar with the club scene. After we were introduced, I would see him and photograph him almost every time I saw him. Although I didn't speak with Larry much, a friendship developed through the photographs.
Many people thought Larry's career ended when the Garage closed but this is not true. He was in the process of rebuilding his life which sometimes takes more time than one has. Because Larry's career didn't end with the Garage, I felt the need to have this page for him. Larry Levan always said hello to me by name and treated me with respect.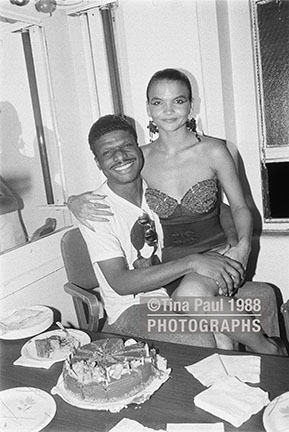 Larry Levan and Liz Torres in the Dressing Room at Studio 54, June 25, 1988. The Garage closed September 27, 1987 and in 1988, Larry played at "special event" parties at Studio 54 and Palladium. In 1989, he found a temporary home at Richard Vasquez's The Choice. Larry played at the Choice Thursday nights and also on special occasions.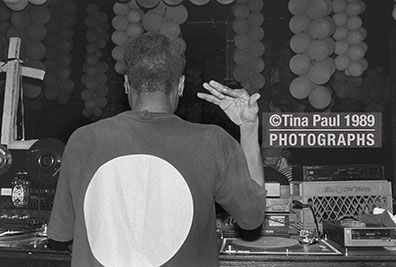 Larry Levan at the Choice, July 13, 1989. This photograph was one of Larry's favorites, it was published in Details October 1989. I used to go to the Choice especially when Liz Torres had a new single. Jessie Lee Jones would send me the advance copies to give to the DJ's and Larry was the first one I would go see. I'll never forget the time I brought him copies of "Payback Is A Bitch". I had brought him reel to reel tapes of the song a few weeks before, and this time I had the vinyl. He played the record almost immediately, creating an incredible mix of the Spanish and English versions. I never heard the song sound like that, Larry was truly a master!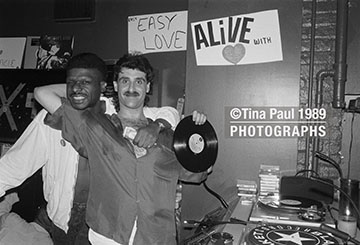 Larry Levan and David DePino at Trax, July 4, 1989. The Larry Levan that I knew was a kind-hearted man. He was Cool like a sexy Rock Star, the first Superstar DJ. After a hard fall from Paradise Larry remained hopeful and optimistic. When Larry was at Garage, there were always Rumors about his drug use and moodiness. I encountered his moodiness sometimes when he didn't want to be photographed but honestly never saw any truth to the rumors about him, though the rumors persisted. In 1990 things started looking up for Larry. He was playing at Mars on Thursday and Sunday nites and would soon get the opportunity to go on tour in Japan. House music was big in Japan since they followed our culture and Larry was well known and highly respected there.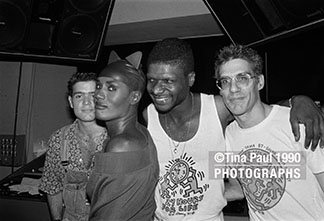 Keith Mullarkey, Grace Jones, Larry Levan and Bob Caviano, Keith Haring Foundation party at the Palladium, July 22, 1990. Imagine my surprise when Liz Torres and Jessie were at my studio reviewing the photographs I did for their album "The Queen is in the House" and the phone rang and it was Larry Levan. He called to tell me about the Japan Tour because he needed to give them some photographs. We had a good laugh because I was always photographing Larry and sometimes he would get angry when he didn't want to be photographed. He apologized for those times and told me it was nothing personal, just that he wasn't feeling his best then. I met Larry at an office at 611 Broadway on May 25, 1990, and brought him 4 photographs. He was so sweet and relaxed; Larry introduced me to the Japanese guys and thanked me for the photos, insisting on paying for them. I don't know what they were used for but I was happy to give him prints of the photos I took of him. We also talked about doing a studio photo shoot together though unfortunately, it never took place.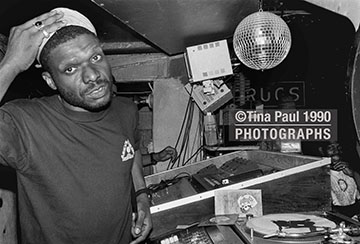 Larry Levan in the DJ booth at Mars, August 12, 1990. What an amazing night! Ru Paul was hosting the new 4th floor and there were live bands on the other floors. Larry was holding court on the main dancefloor so just when I thought I was headed home, there were many photos to be had of all the dancers and prancers on the floor and the man himself in a great mood, posing for photographs! I didn't see Larry for a while after that, I guess he was touring Japan.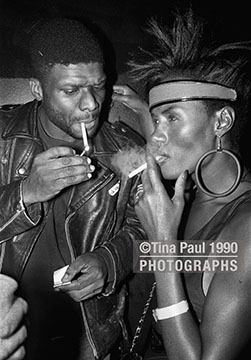 Larry Levan and Grace Jones at Sound Factory, NYC, November 3, 1990. Liz Torres was in town and after a night out at Roxy, we went to Sound Factory. It was very festive then, there was a VIP area in the back with alcohol drinks and that's where we saw Larry and Grace. The last time I saw Larry was at Sound Factory again, in 1991, shortly after I met Lady Arhlene. He seemed quite happy then, I think things were comming together for him. It is unfortunate for us all that his untimely passing in 1992 didn't allow him to leave behind more recordings of his work.
Larry Levan's legacy is the future of Dance Music because he paved the way for all the DJ's and Producers of today. Whether they credit Larry Levan as an influence or not, they were all infuenced by him; even the DJ's who are too young to have ever heard him spin. If they were influenced by a DJ who was infuenced by Larry; somehow they all connect to the one great DJ, Larry Levan.







Tina Paul








Story and All Photographs İTina Paul 1999
All Rights Reserved




tinapaul@fifibear.com



Copyright Notice: All Material, photographs, drawings, words and video that appear in Fifi Studios website
are the property of Tina Paul and Arhlene Z. Ayalin. All photographs, drawings, words and video are protected
under United States and International copyright laws throughout the Universe. No part of this website may be
privately stored, reproduced, broadcast, displayed in public, or used for any purpose in any form without
permission of Fifi Studios İTina Paul 2001 and İArhlene Z. Ayalin 2001 All Rights Reserved

---

tinapaul@fifibear.com