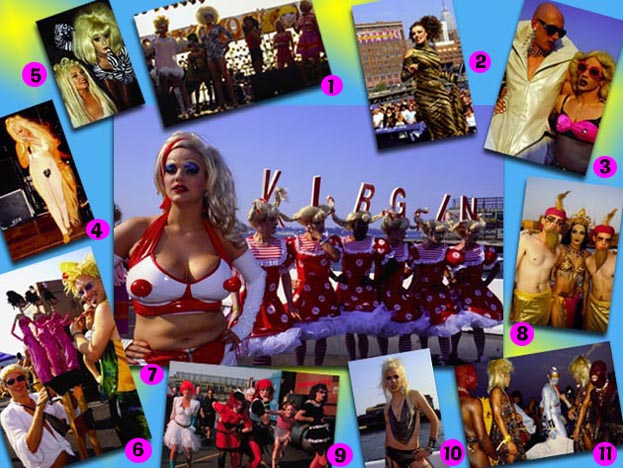 Wigstock 98 New York City - September, 6 1998
Hello Lovers, Well here is almost the end of September the awesome pictures you've all been waiting for of Wigstock 1998 at Pier 54 in NYC. How exciting indeed, for those of you who did not make it to the Glittering event let me just recap the moments of the day. We got there early just when it started about 2:00pm too early for us! we are night babes. It was a perfect day right on the Pier, seeing the water so close was soothing and exhilarting, I started videoing the beauties right away. It was a bright and windy day and girl, I was so glad my makeup was on perfectly, honey all the girls looked flawless too! Especially (1) Lady Bunny and the Wigstock Dancers, good going girls, you all ruled that day! Lady Bunny as if she was bewitched, changed outfits 3 times and those outfits are any girl's dream clothes, they were fit to be in a Hollywood musical Edith Head would have been proud of. There was alot of musical talents that fine day too, (2) Kristine W. who's songs I hear all the time in clubs showed up and all I can say is what a woman, alot of woman! this girl is hot and she can sing! (3) Dean Johnson & The Velvet Mafia performed, and I was so estactic he sang the "velvet mafia" song, I love that song! It's like a perfect cult movie song. Hedwig was there, it was as if you were living in the 80's all over again and feeling young and innocent, thank you Hedwig for bringing me back. Then came in the most beautiful Blondie herself (4) Deborah Harry, she wowed everyone especially the paparazzi who waited all day just to photograph her, I especially loved the song she sang from the Debravation CD "Strike me Pink", shes so cute that Debbie she even had her little dog chichi join her onstage while she performed. (5) Lady Bunny took 5 and posed with Debbie, I love this Photo! Two of my favorite Blondes. I am so in awe of these two talents, (6)Basil Twist and Bobby Miller. Now Basil's Puppetry is huge, his play on off broadway is getting rave reviews in every Paper and TV in town, if you haven't seen "Symphonie Fantastique" then you must, it's got puppets and 500 gallons of water. Bobby Miller is equally as talented, he is a Poet/Hairdresser/Photographer and he just finished a Book called "Fabulous!" A Photographic Diary of Studio 54". Listen up honeys, if you love anything 54 then you'll love his book. (7) Rock and Roll star Bob was there, wow if anyone is a bombshell this girl is, and believe me this girl is beauty and brains all the way, and yes those are real! Thank You Wigstock sponsors Virgin Records, now I heard these girls really are virgins. Ahhhh an exotic sultry (8) Princess Zoraya stopped by she graced us with her presence thank you Princess your beauty cooled us from the hot rays of the sun. Everyone was having so much fun including (9) Flloyd with his Dancers, Gem and The Holograms, I loved their Performance Gem knew how to wow them in Cartoon World. The Best Rock Star in town none other than (10) Miss Guy lead singer of The Toilet Boys, Guy is so Glamorous and he sures knows how to sing Rock and Roll I love his voice. Super! another hot dance song from the rising star himself (11) Kevin Aviance his songs make you dance and you feel sooo good.....All of a sudden before you knew it 10:30pm rolls around time was up, I felt like crying it was all over, boo hoo... and the worst part was the secret service dudes sent everyone home and all of a sudden as if magic everyone was gone and we were last to leave.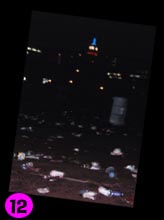 (12) This is what the Pier looked like after the party, I love this Photo!
Thank You Tina for taking such great Pictures....

Bye for now and till next time.....
love & kisses,
Lady Arhlene
All Photographs By ©Tina Paul 1998
Photo Imaging By ©Arhlene Ayalin 1998
Copyright Notice: All Material, photographs, drawings, words and video that appear in Fifi Studios website
are the property of Tina Paul and Arhlene Z. Ayalin. All photographs, drawings, words and video are protected
under United States and International copyright laws throughout the Universe. No part of this website may be
privately stored, reproduced, broadcast, displayed in public, or used for any purpose in any form without
permission of Fifi Studios İTina Paul 2001 and İArhlene Z. Ayalin 2001 All Rights Reserved
Unauthorized Use is Prohibited.

---

SUPERSCRIBE
tinapaul@fifibear.com
arhlene@fifibear.com