The 2006 Fall/Winter Fashion Week
Live from New York City...
Images from the Runways, Parties, Backstage, The Tents and Clubs...

featuring Fashions from Buckler, Vena Cava, A La Disposition, Keanan Duffty,
Heatherette, House of de Lux, Kai Kuhne, Atil Kutoglu, Lacoste, Manuel, Oakley,
Dragana Ognejovic, Rodebjer, Charlotte Ronson, Jeremy Scott, LL Cool J
aka Todd Smith, Sue Stemp, Venexiana and Zaldy...

Seductive Tunes by Antony, Miss Guy, Deborah Harry, Fischerspooner,
Morningwood, Paul Sevigny, Rufus and Mark Ronson...

Provocative Models Susanne Bartsch, Naomi Campbell, Pat Field, Gazelle,
Charlie Green, Lydia Hearst, KennyKenny, Tiiu Kuik, Karolina Kurkova, Amanda Lepore,
Omahyra Mota, Willi Ninja and Anna von Ravenstein...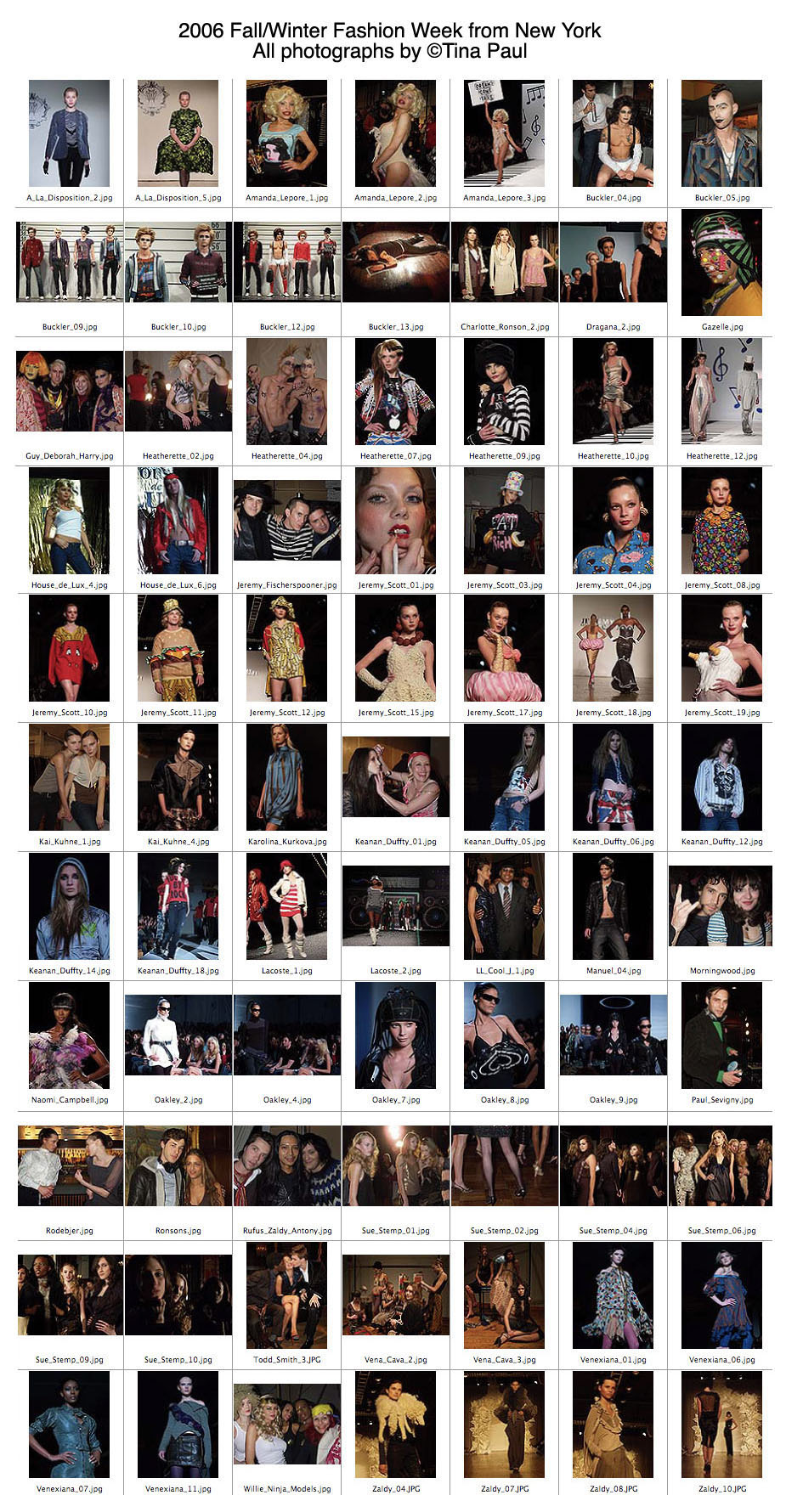 All Photographs by İTina Paul 2007 All Rights Reserved.
Imaging by İArhlene Ayalin 2007
Thank you so much!
Peoples Revolution, Kelly Cutrone, Seventh House PR, Mandy Erickson,
MAO PR, Mauricio and Roger Padilha, Syndicate NY, Maria Vu,
Aimee Phillips, Claire O' Connor and Gino Tavernaro
LOVE Fashions as much as we do!!

Shop At CoutureCandy

For The Latest Styles On The Fashion Runway!
*By Exclusive Designers*
PLUS *Current Trends *Celebrity Looks *SALES!!




---





HOME